In its simplest form, at a macro level, SEO can be broadly divided into two composite parts: link building/off-page work and on-page/technical changes. Often, when working with a medium or large organisation, the client will already have a development team in place who are responsible for making the technical on-page changes to the website. This means an agency partner responsible for improving the organic performance will have no direct access to the site itself and thus entirely reliant on this in-house development team to implement any required changes. This means that in cases where there is a lot of mission-critical site changes to be made, the relationship between the agency team, the in-house marketing team and the in-house development team is extremely important in terms of how quickly the organic performance improves.
In this post I am going to explore how agency teams can best manage these relationships in order to get as many of the required changes implemented in the shortest possible time frame.
Communication
This is perhaps blindingly obvious, but effective communication between all three teams is absolutely vital for changes to be implemented. There are lots of ways to communicate, of course, including emails, calls, Skype, and face to face. Ideally you would communicate directly with the in-house development team (rather than exclusively via the client marketing team) although this is not always possible. Which type of communication you choose depends on many factors, including:
The technical SEO knowledge level of the in-house marketing team
The technical SEO knowledge level of the in-house development team
The willingness/viability of the in-house development team to engage with the external agency partner
The scale and scope of the changes that need to be made
The type of CMS the site is hosted on
For example, a quick title tag change could potentially be done over an email and be executed reasonably quickly. In this instance, it's not really worth having a 30 minute conference call about it. However, one title tag change could in theory negatively impact the rest of site if it's hosted on a peculiar or bespoke CMS. One lesson I think is worth remembering is that not everyone is using WordPress and has Yoast installed so some ostensibly "easy" or "quick" changes can take much, much longer on different CMS platforms. Also consider:
The available resource of the in-house development team
The in-house development team's lead time for new tasks
The priority assigned to your request vs current changes or open projects
Pre-scheduled site updates or new site release dates
So however frustrating it may seem not being able to get minor changes to be made, you should consider the above constraints the development team may be under.
A quick word on Basecamp
After going through the pains of trying to communicate three ways over email myself, I can heartily recommend all development tasks should be put into a collaborative project management system, such as Basecamp. Doing so will provide complete transparency and facilitate open communication between all the relevant stakeholders. This will also avoid having to navigate cumbersome email threads that get longer and longer and harder and harder to scroll through.
Another benefit of using Basecamp is that it lets you assign tasks (called "to-dos") one particular person, which them gives them the responsibility of completing the work with a clear deadline of when it should be completed by. Notes on each "to-do" can be added via comments which, when added by a user, will notify the relevant people via email so everyone involved is aware of where the project is up to at all times. Finally, you can also prioritise changes which is extremely important in terms of getting the most important changes done first, something that can be lost over email.
A screenshot from our internal basecamp project
Conference Calls / Face-to-face meetings
You may find it useful to set up conference calls or even face-to-face meetings with the development team. Of course, you will mostly be lead by how the marketing team want you to organise the relationship and interaction with the dev team, which in itself can also be influenced by their own relationship with their developers. The correct method and frequency of communication will also depend on the knowledge level of the development team. For example, are the dev team au fait with what you asking them to do? Do they know WHY you are asking them to do it? These are some of the challenges you can face which can often be best over come on a call or in a meeting.
One thing you MUST get over to the developers is that…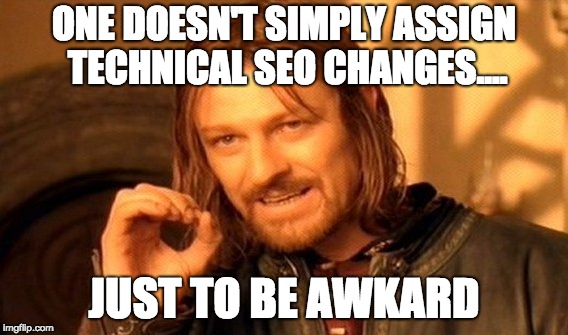 You are not giving them work for the sake of it and you need to make this abundantly clear from day one.
If necessary explain why you need X implementing and the corresponding positive impact it will have. Don't be the fly in the ear or the itch they can't scratch as this will only lead to slower implementation and possible resentment. Equally, make sure you can get agreed deadlines for when changes can be completed by as this will help to keep the project on track. Try and build a positive rapport with mutual respect and understanding for the challenges faced on both sides.
Use Tools
The digital marketing sphere is awash with lots of useful and time-saving tools. Not only do tools make you more efficient, they provide (in most cases) reliable and actionable data which can be used to improve your marketing efforts. In terms of on-page changes, using tools means you have verifiable, independent and hopefully incontrovertible data to back up your requested changes (should you need to provide documentary evidence to back up your requests). So, rather than stating the site is "really slow", send screenshots from Google PSI or Pingdom illustrating the issue and the resulting impact it is having on current performance. If you really want to ram the point home, send additional speed test results from the number one site in the industry who will more often than not, have a much faster loading site.
Conclusion..
Even after following the above advice you may still find changes are still not being made for whatever reason. It is true to say you can only take a horse to water in terms of working with an in-house or third party development team, however, by working collaboratively and being open, honest, reasonable and transparent, you give yourself the greatest possible chance of getting the maximum number of changes made in the shortest time possible.
👇 Like what you read? Share what we said! 👇